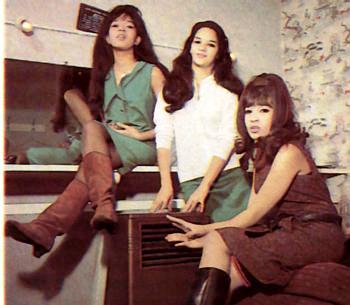 On January 26, 2009, 4-6 am Central Standard Time, in Chicago, Illinois on
WHPK
88.5 the Pride of the South Side, This is New Radio
showcased
G[
ir
]
rrl
groups.
Reflecting on this show, I wish I would have had included more girl groups and added much more information about each song/artist, since every girl's story is simply fascinating, however, two hours is a temporal constraint, which does not allow such elaboration. But lucky for you, I can offer some insight for those interested in learning more about girl groups.
A few books to check out:
Whitall, Susan
1998. Women of Motown An Oral History.
Avon Books: New York. (part of For the Record Books edited by Dave Marsh).
Warwick, Jacqueline
2007.
Girl Groups Girl Culture Popular Music and Identity in the 1960s.
Routledge: New York.
Greig, Charlotte
1989.
Will You Still Love Me Tomorrow? Girl Groups From the 50s On.
Virago Press: London.
The Liverbirds- Peanut Butter
Below is the link for the show:
Girl Groups - This is New Radio
Track Listing:
Earl-Jean- I'm Into Something Good
The
Supremes
- Love is Like an Itching in My Heart
Goldie and the
Gingerbreads
- VIP
The Cookies- Girls Grow Up Faster Than Boys Do
Lindy Lane- Low Grades and High Fever
Dusty Springfield- Take Another Little Piece of My Heart
The
Shangri
-
las
- Give Him a Great Big Kiss
The Angels- My Boyfriend's Back
The
Chiffons
- My Boyfriend's Back
The
Chantels
- Well I Told You
The
Luv'd
Ones- Up Down Sue
Mary Wells- My Guy
The Crystals- He Hit Me (And it Felt Like a Kiss)
Brenda Holloway- I've Been Good to You
The Feminine Complex- Love Love Love
The
Shirelles
- Will You Still Love Me Tomorrow?
ID- Those Ever Loving Baby Blues
Lesley Gore- You Don't Own Me
The Puppets- Ain't Gonna Eat Out My Heart
The
Shangri
-
las
- He Cried
The
Marvelettes
- Please Mr. Postman
The Pleasure Seekers- What a Way to Die
The
Liverbirds
-
Diddley
Daddy
Patti and the
Bluebelles
- Somewhere Over the Rainbow
Dana Gillespie- You Just Gotta Know My Mind
Lori Burton- Nightmare
The
Ronettes
- You Came, You Saw, You Conquered
Ellaine
and the
Shandells
- Tell Me That You Care
The Starlets- No, No, No (You Don't Love Me)
The
Ikettes
- I'm Blue
Martha and the
Vendellas
- Dancing in the Streets
Dusty Springfield- Breakfast in Bed
The
Jayettes
- Sally Go Round the Roses
The Honeys- The One You Can't Have
The Toys- Lover's Concerto
The Termites- Tell Me
Alma
Cogan
- Snakes, Snails, Puppy Dog Tails
The
Ronettes
- Be My Baby