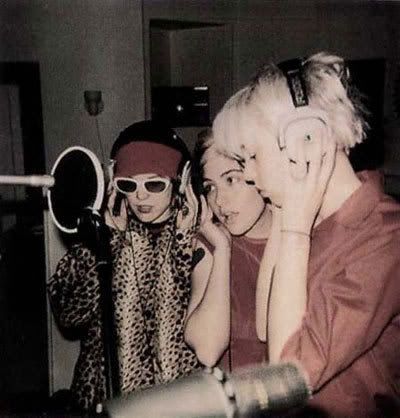 January 12, 2009. This is New Radio debuted on
WHPK
88.5 The Pride of the South Side in Chicago, Illinois at 4 am Central Standard Time. I had never been in a radio studio, let alone produced a radio show. The medium of radio was a complete mystery to me, but I knew that I was bored of hearing the same ten male-centric songs on the classic rock/oldies station, or a complete
devalued
inauthenticity
attributed to any women that happened to, seemingly by mistake, "get played" (notice the pun!) on almost every other station. And, I don't know about you, but I am sick of hearing about how "crazy bitch" Yoko broke up the Beatles, or how great female voices are always "discovered" by some bourgeois male music producer type.
So lets look at this as an attempt to rewrite the grand popular music historical narrative by questioning those seemingly naturalized discourses that permeate our understanding of what it means to be a GIRL making music.
The link below is an Mp3 of my first show, which focused on Riot
Grrrls
. To contextualize: the whole concept of Riot
Grrrl
culture impacted my life in a very real and personal way-- it allowed me to realize that girls could really do whatever we want and that was empowering for my confused fourteen year old self. Hearing Kathleen Hanna scream for the first time, dancing to
Bratmobile
with friends, or reading Riot
Grrrl
zines showed me that girls were special and had a culture that could subvert conventional ideologies in a radical way. Girl music and girl culture stands in opposition to practices that write women and girls out of histories or questions their involvement and authenticity. To summarize, I think experiencing women-- particularly those labeled "Girls"-- making music in any capacity is exciting, empowering, and all together fun. This is New Radio is an attempt to understand "Girl Music" as important.
Riot Grrrls - This is New Radio
Track Listing Below:
Bikini Kill- New Radio
Bratmobile
- The Real Janelle
Julie Ruin- V.G.I.
Heavens to Betsy- Me & Her
Spider and the Webs- Mister Hypnotist
Kathleen Hanna's Message to Mike Watt
Huggy
Bear- Blow Dry
Team
Dresch
- Seven
Cadallaca
- Two Beers Later
Suture- Pretty Is
Sleater
-Kinney- Banned From the End of the Earth
7 Year Bitch- Chow Down
Slant 6- Soda Pop-Rip Off
The Bangs- Sweet Revenge
Go Sailor- Ray of Sunshine
Excuse 17- 5
Arces
Babes in
Toyland
- Ripe
Chicks on Speed- For All the Boys in the World
The
Peechees
- Pepper
Bikini Kill- Suck My Left One
Tribe 8- Manipulate
Star Sign Scorpio-
Eskinaut
The
Frumpies
- Weird Machine
The
Frumpies
-
Intertube
Tomorrow
Emily's Sassy Lime- Bait & Switch
Sleater
-Kinney- Get Up
My New Boyfriend- Thurston Moore
Kathleen Hanna- I Wish I Was Him
Le
Tigre
- Hot Topic
Red Aunts- Poison Steak
The Need- Crown
The Casual Dots- I'll Dry My Tears
The Gossip- Got All This Waiting
Bikini Kill- Alien She
Bratmobile
- And I Live in a Town Where All the Boys Amputate Their Hearts
Spider and the Webs- Do you Really Wanna?
The Bangs- Into You
Julie Ruin- Break Out A Town
Bratmobile
- Where Eagles Dare
The Frumpies- Be Good